bio
contact info
quotable
this and that...
la la la la la la la la la la la la la la la la la la la la la la la la la la la la la la la la la la la la la la la la la la la la la la la la la la la la la la la la la la la la

about dan
professional

I'm a Senior Software Engineer at Google, where I've been since mid-2011. Most recently, I've been working on abuse fighting at YouTube.
my old career
Prior to working at Google, I was a cognitive neuroscientist with interests in higher cognitive function, brain image analysis and methodology, and neuroinformatics. I developed the now-defunct VoxBo package for brain image and lesion analysis. For most of my career, I was at the University of Pennsylvania, in various soft money positions (e.g., Research Assistant Professor).
education
I received my AB in cognitive studies from Princeton in 1989, and my PhD in cognitive psychology from Carnegie Mellon in 1994.
poker-related
In 1998-2000, I wrote and self-published Serious Poker, an introductory book on poker (a second edition was published by ConJelCo in 2002). From 2001-2006 I wrote a regular column for Card Player Magazine, called "Thinking About Poker" (the articles are now behind the paywall at cardplayer.com). I have a non-commercial poker web site at seriouspoker.com, although since poker got popular, I haven't maintained it. I don't play poker professionally.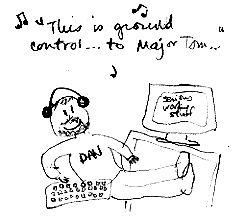 personal
My family and I live in a quiet suburb in the San Francisco Bay Area. I was born in Center City Philadelphia, and still follow the hometown teams, even though they make it hard sometimes.
interests
My interests (some active, some dormant) are fluid, but as of this writing include: parenthood, writing, poker, golf, good code, tight spirals, movies, human-machine interfaces, pool, vladimir nabokov, eating out, brain imaging, buddy guy, baking cheesecakes, dave barry, cryptography, solitude, opera, the kennedy assassination, electronic gadgets, pasta, george orwell, late hours, science, anger, the band television, playing hockey, statistics, guitar, sunglasses, philadelphia pro sports, david bowie, cheesesteaks, the three stooges, and happiness. Not in that order, or in any other.